West 12 Redevelopment
Thursday 13 December 2018
Exhibition: 12:00 noon until 9pm
Open Meeting: 7:30pm
Landsec will present their latest plans for the redevelopment of the West 12 shopping centre at an exhibition in the Charecroft Community Hall, including an Open Meeting for Charecroft Residents at 7:30pm
NB this project does not involve any changes to Bush Court or Shepherds Court
---
AGM Tuesday 6 November 2018
Annual General Meeting, election of officers, updates on CESI Project, West 12 Development Plans
See the Meetings page for more information
---
Green for Grenfell
There's still time to contribute on the crowd funding page
---
Open Meeting
Tuesday 10 July 2018
Close of Consultation & Questionnaire
---
Open Meeting
Tuesday 19 June 2018
Launch of Charecroft Estate Safety & Improvements (CESI) Project
We held an open meeting for all residents and leaseholders on Tuesday 19 June 2018.
CESI is the major works project to replace windows, panels and lifts, and to carry out other repairs to roofing and parapets. We are launching a major consultation with all residents over the scope of these works, how they are specified and carried out, and how residents can ensure their voice is heard.
---
Green for Grenfell
Thursday 14 to Sunday 17 June 2018
There's still time to contribute on the crowd funding page
Click here to see the letter delivered to residents.
External Links
More information can be found on the Green for Grenfell crowd funding page
LBHF has this article about Green for Grenfell
The Prime Minister has written this article for the first anniversary of the Genfell Tower fire
---
Open Meeting
Tuesday 13 March 2018
We will hold an open meeting for all residents and leaseholders on Tuesday 13 March 2018. Drop in clinics for a variety of officers and partners will be held from 6:30pm. Look out for posters and notices delivered to your letterbox.
Click to view/download the minutes for this meeting
---
Update on Window Design
20 October 2017 The Council has issued this statement on how it is responding to feedback from residents at the AGM
---
Questions & Answers from July Open Meeting
View/download the PDF (65KB)
---
Never let anyone into your home if you aren't sure who they are.
Council officers and workers will always carry photo identification – ask to see this and check it carefully.
If in doubt, refuse entry.
Report anything suspicious to the ESSO officer (concierge) via your entry control handset, or call the police on 101.
---
Latest Works at Shepherds Court

From Monday 17 July 2017 for 4-5 nights, 10:30pm-6:00am
Panels will be removed from the West 12 frontage above the main entrance to Shepherds Court.
All residents have been notified by letter. No access will be required to anyone's home.
---
OPEN MEETING
Thursday 6 July 2017 at 7pm
St Simon's Church, Rockley Road W14 0DA
The council will update Charecroft residents on plans to remove panelling
Notice of Meeting (PDF - 60KB)
---
Fire Wardens now patrolling Charecroft 24/7
Latest Advice from LFB on "stay put" policy
---
Future Meetings and Events
Open Meetings: 10 October 2017 (AGM)
Committee Meetings: 12 September 2017
---
OPEN MEETING
Tuesday 9 May 2017 at 7pm
Notice of Meeting (PDF - 90KB)
View/download the AGENDA (PDF – 90KB)
---
OPEN MEETING held on
Tuesday 7 February 2017 at 7pm
Notice of Meeting (PDF - 215KB)
View/download the AGENDA (PDF – 55KB)
---
CTRA Committee Meeting Tuesday 29 November 2016
View/download the Minutes (PDF – 30KB)
---
The CTRA AGM was held on Tuesday 8 November 2016
A new committee was elected at the AGM.
The Officers are Chris (chair), Julian (vice chair), Christine (secretary) and Alan (treasurer).
Click here (PDF) for further information.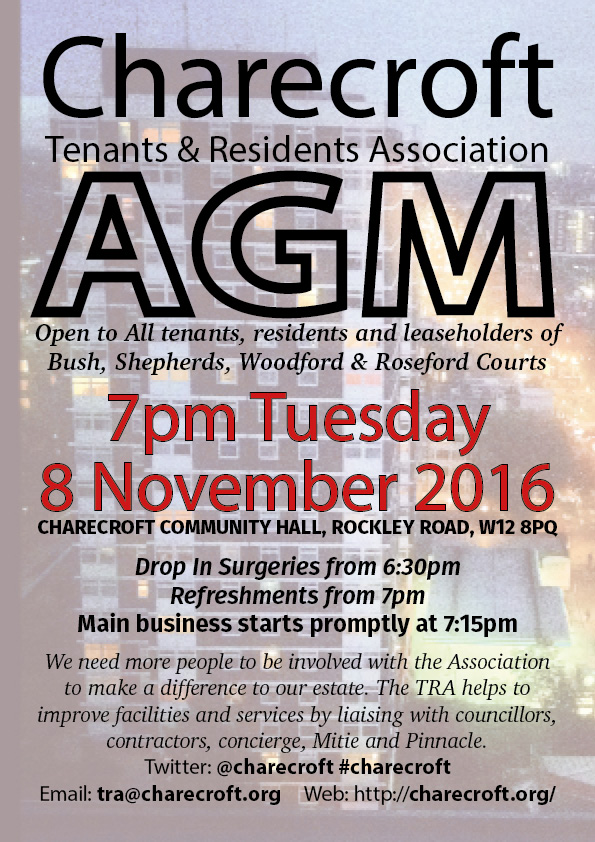 Click here for Agenda including Minutes of previous AGM.
Follow us on Twitter @Charecroft #Charecroft
---
Councillors
---
©2016-2018 Charecroft Tenants and Residents Association, Charecroft Community Hall, Rockley Road, Shepherds Bush Green, London W12 8PQ w3w.co/tribe.social.cost
This website does not use cookies